Tata Sustainability Group (TSG) hosted the sixth Regional Volunteer SPOC (Specific Point of Contact) Meet this year and the first in Chennai on February 10, 2023. 38 volunteering SPOCs and champions from 15 Tata companies enthusiastically participated in the regional meeting.
The objective of the meet in Chennai was to understand the group level volunteering context, facilitate cross sharing of ideas and enterprise level good practices and identify areas for synergy and collaboration between companies as well as with TSG. Participants came together to pause and reflect on the Tata Group's volunteering goals, and to deliberate, reassess and co-create means to achieve the group aspiration for 2025.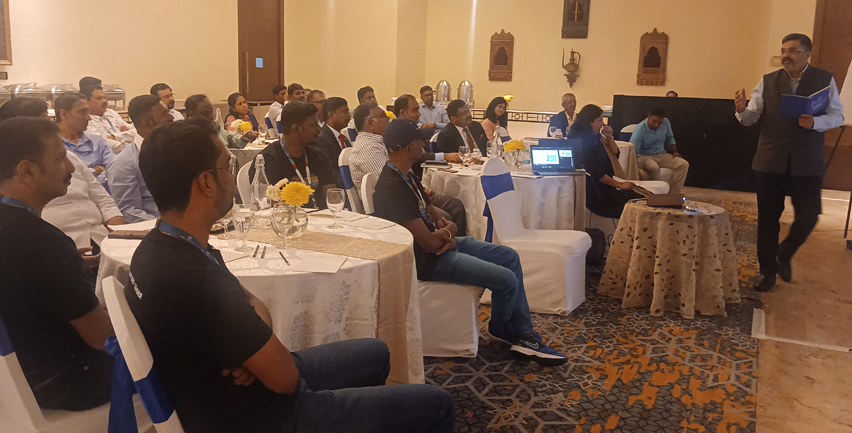 The meet was coordinated by Supriya Ramachandran, manager, TSG, who formally welcomed the participants, and conducted a brief icebreaker session for the participants that helped them get acquainted with each other.
Shrirang Dhavale, general manager, Social Services and Administration and Accounts, TSG, set the context for the workshop and highlighted the potential of over 900,000 employees coming together and committing to the group's aspiration of four volunteering hours per capita to create wider and deeper impact. He emphasised that giving back to the community was and will always be one of the many differentiators that sets the Tata Group apart from other large conglomerates. He introduced and welcomed the keynote speaker DIG TS Balasubramanian (Retd), Tata Consultancy Services.
In his address, Mr Balasubramanian reiterated that the volunteering SPOCs had an important role to play as influencers and catalysts and must continue to think outside the box to champion volunteering. He mentioned that the SPOCs should lead by example and inculcate the art of convincing to be prime motivators of change. He reaffirmed the importance of the group's aspiration of increasing PCVH (Per Capita Volunteer Hour) from 1.5 to 4 by 2025, and the unique opportunity for cross-sharing, learning and building synergies for leveraging our social capital of workforce.
Gauri Rajadhyaksha, deputy general manager, TSG, presented a group-level overview of volunteering, including volunteering highlights for FY22 and opportunities provided by Tata Engage – the group-level platform for volunteering, a global benchmark of corporate volunteering programmes. She also highlighted the efforts being extended by TSG to enable companies to take bigger and bolder steps in their volunteering journey and meet the group volunteering aspiration.
Representatives from three Tata companies presented their enterprise-level approach to volunteering and the work that has been done to reach the target of four PCVH. Victor Pravin Kumar from Tata Consultancy Services, Sanjith Raju from Kannan Devan Hills Plantations Company and Vinod Guru from Indian Hotels Company shared their unique strategies and levers for promoting volunteering within their companies, including scheduling activities, the role played by leadership as influencers, and the importance of impactful communication campaigns in institutionalising volunteering and creating a healthy competitive environment.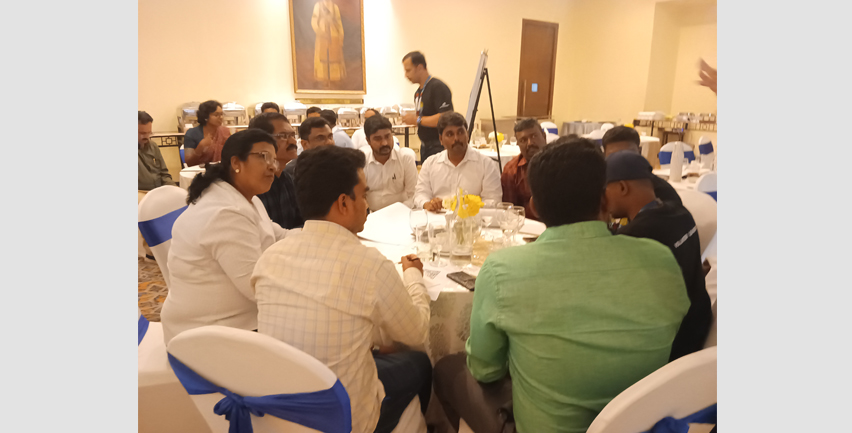 During the second half of the day, Ms Ramachandran and Ms Rajadhyaksha facilitated group breakout sessions where participants brainstormed and discussed various themes related to volunteering, such as achieving four PCVH, communication strategies, quality framework, and Tata Engage (TVW and ProEngage) programs. The participants presented potential opportunities and challenges, outlined a plan for moving forward and the support required from TSG. Some of the key feedback inferred from the session included standardisation of digital platforms across the group for mobilisation and impactful reporting. What made the session even more engaging was the insights and recommendation for companies and TSG.
The meet concluded with a vote of thanks from Mr Dhavale, and an engaging volunteering activity facilitated by Tata Communications where SPOCs created soft toys for children.