| | | | |
| --- | --- | --- | --- |
| | | Health check-up camp for girls | Tata Steel | Joda |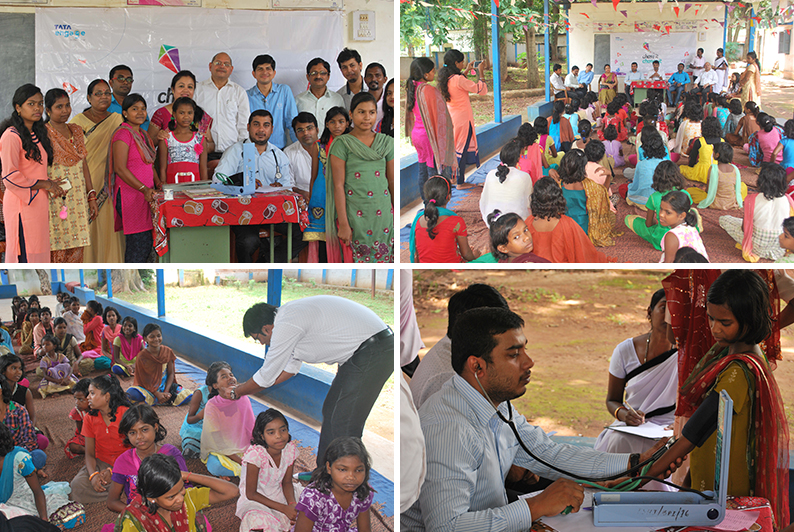 With excitement and interest, TVW8 was launched on 5th September, wherein a group of employees participated in organising a basic health check-up camp for the girl students enrolled under the Residential Bridge Course Centre (RBC) at Joda. The volunteers spent time with the girls and explained the importance of good health to them.
| | | | |
| --- | --- | --- | --- |
| | | Celebrating Teacher's Day with girls | The Tinplate Company of India | Jamshedpur |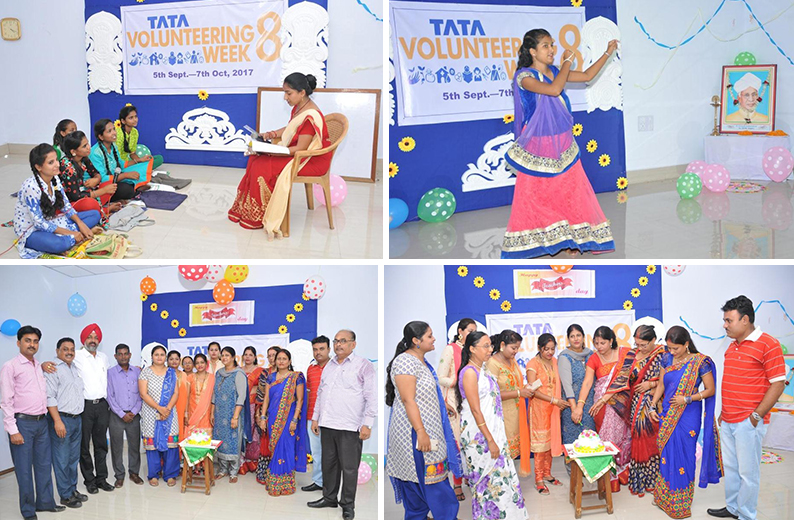 Senior collegues from tata Motors and TML drivelines interacted with progressive lady farmers at Rajdoha village. Rajdoha is one of the seven villages taken under the fold of 'TML Lab to Land' programme through which expertise of Flora Horticulture Society (FHS) on horticulture and allied practices is extended to farmers with hand holding support of Employee Volunteers from Central Maintenance Division which has adopted the village with CSR function as the interface. Trainings on mushroom cultivation, apiculture, fishery and rearing of fowls along with material inputs for agriculture and fruit plants are being provided to the farmers for augmenting their income levels by enlarging the livelihood opportunities at the villages. The village ladies gave a warm and traditional welcome to the Employee Volunteers. The volunteers saw the mushroom cultivation, apiculture and horticulture practices adopted by the lady farmers and encouraged them to continue. They gifted Rhode Island Red (RIR) and quail fowls to the farmers. They explained the economic benefits of back yard fowls like RIR and the need for creating separate enclosures for the quails. The interactions were lively which made the villagers very happy.
| | | | |
| --- | --- | --- | --- |
| | | Launch of TVW8 | Tata Motors | Jamshedpur |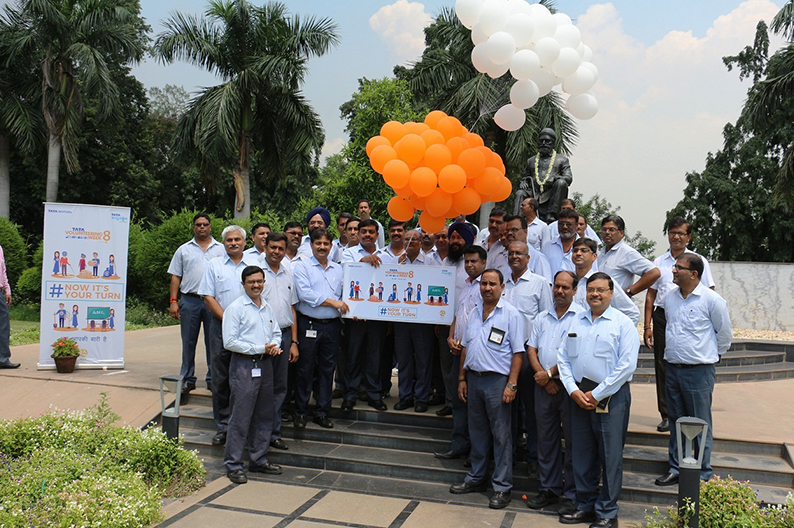 Tata Volunteering Week was launched by Head- Jamshedpur Plant, in presence of senior team members and union members. On this occasion Head JSR plant, reiterated the relevance of employee volunteering initiative which is very much in line with the philosophy of giving back to society While deliberating on key highlights , it was shared that Tata Motors has consistently performed well among the group companies under employee volunteering program.
| | | | |
| --- | --- | --- | --- |
| | | Cleanliness drive | Coastal Gujarat Power | Mundra |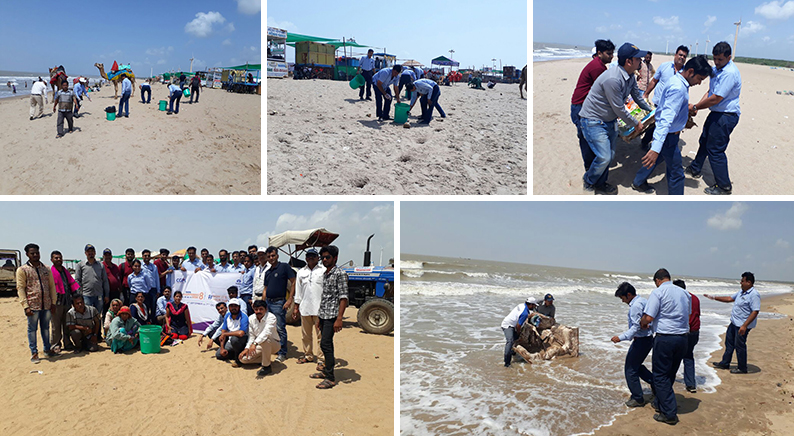 A cleanliness drive was organised at Wind Farm Beach- Mandvi with the employees and their family members in association with Mandvi Municipality Because of Ganesh Visarjan at Mandvi Beach, huge amount of plastic and debris of Ganesha idols accumulates along the coast line of beach. The volunteers removes debris along with local authorities.
| | | | |
| --- | --- | --- | --- |
| | | A walk to create awareness on disability | Voltas | Singapore |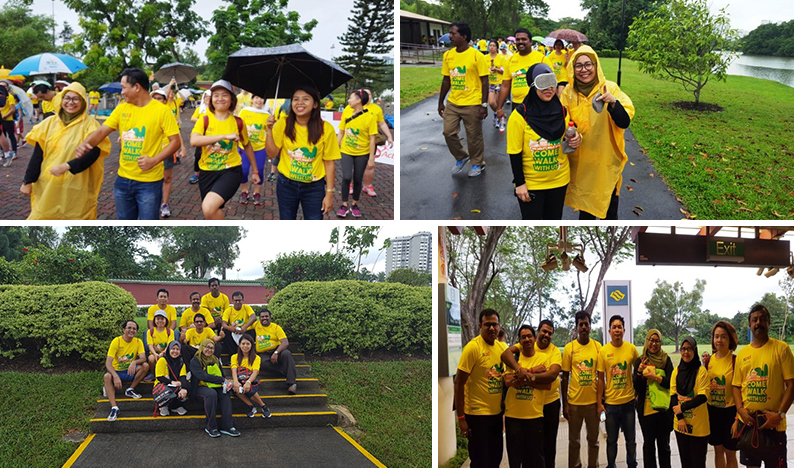 Voltas Singapore Branch team members participated in the SPD Ability Walk 2017. The walk was a 3 km walk held at the Chinese Garden commencing from the Dragon and Phoenix Court. Other Tata group companies, such as Natsteel, TCS & Tata Communications team members also participated. The event was graced by a Minister in Prime Minister's office, Second Minister for Home Affairs and National Development. The SPD Ability walk was organized to show support to people with Disabilities and there were various performances along the walk for the entertainment and encouragement of the walkers, there was also activities such as walking with a Blind Fold as a team. The volunteers spent quality time and gained a first-hand experience and better insight into the difficulties faced by people without sight. All participants were very enthused by this walk and despite the heavy rains on that day, continued with the walk-in solidarity with the disabled and brave folks.
| | | | |
| --- | --- | --- | --- |
| | | Nirmalya Collection | Tata Technologies | Pune |

Tata Technologies volunteers conducted a Nirmalya Collection, wherein they collected Ganesh Idol and tons of Nirmalya from all the families who came to immerse the Idols. Usually, it is thrown in rivers and that causes water pollution. The volunteers created an awareness amongst the families. It was a joint effort of Tata Technologies, Tata Motors and Pune Municipal Corporation.
| | | | |
| --- | --- | --- | --- |
| | | Plantation drive | Tata Chemicals | Mithapur |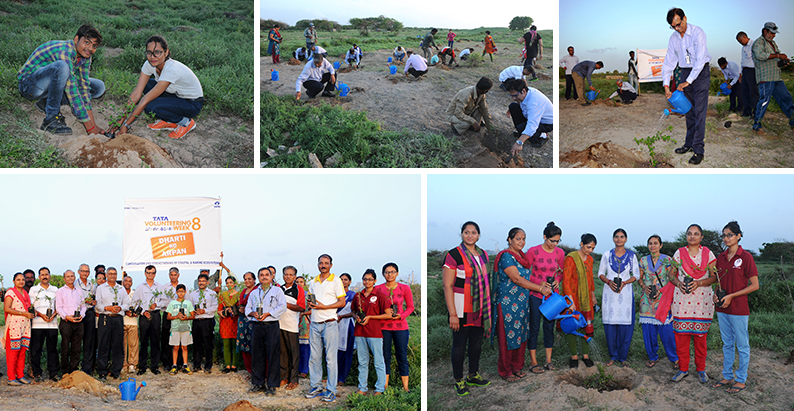 Tata Volunteering Week-8 program was launched at Mithapur with plantation of 101 saplings of the endangered Gugal (Commiphora wightii) plant. Mithapur site head and senior executives volunteered alongwith employees and family members. The focus of the month long volunteering drive shall be to enhance volunteers' participation in "Dharti Ko Arpan" initiative for conservation and strengthening of coastal and marine ecosystems in the Mithapur region. This would include programs related to biodiversity conservation including coral reef and marine ecosystem; wetland ecosystem; indigenous flora conservation; mangrove propagation; birds, reptiles and marine turtle conservation; and creation of mass awareness for protection of environment and local biodiversity.
| | | |
| --- | --- | --- |
| | *This update covers only some of the activities undertaken by companies. | |