| | | | |
| --- | --- | --- | --- |
| | | Cleanliness activity | APPL | Assam |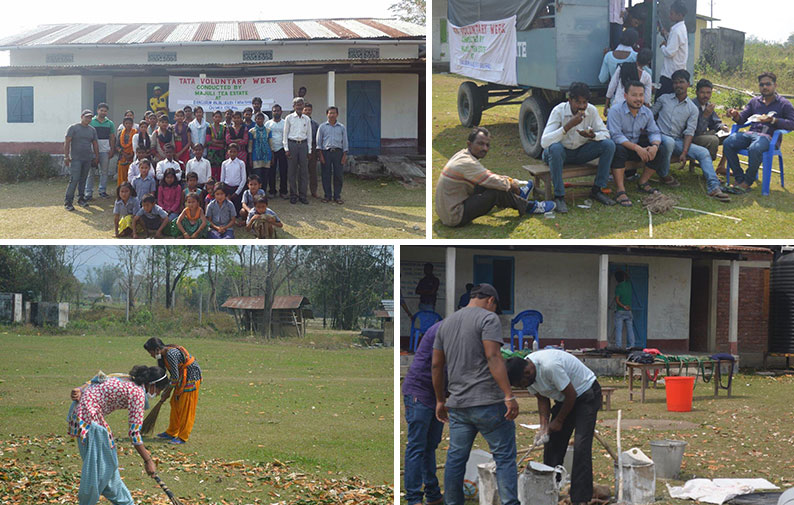 On 9th March'16 the volunteers visited the estate at a neighbouring village named Bangurum. 25 volunteers from the Estate did the lime washing and painting of the doors and windows of the Bargurum L.P. School. The cleaning and painting drive was performed from 11 am till mid-day. During the entire programme the villagers of Bangurum were also present.
| | | | |
| --- | --- | --- | --- |
| | | Cleanliness drive | Ginger Hotels | Chandigarh |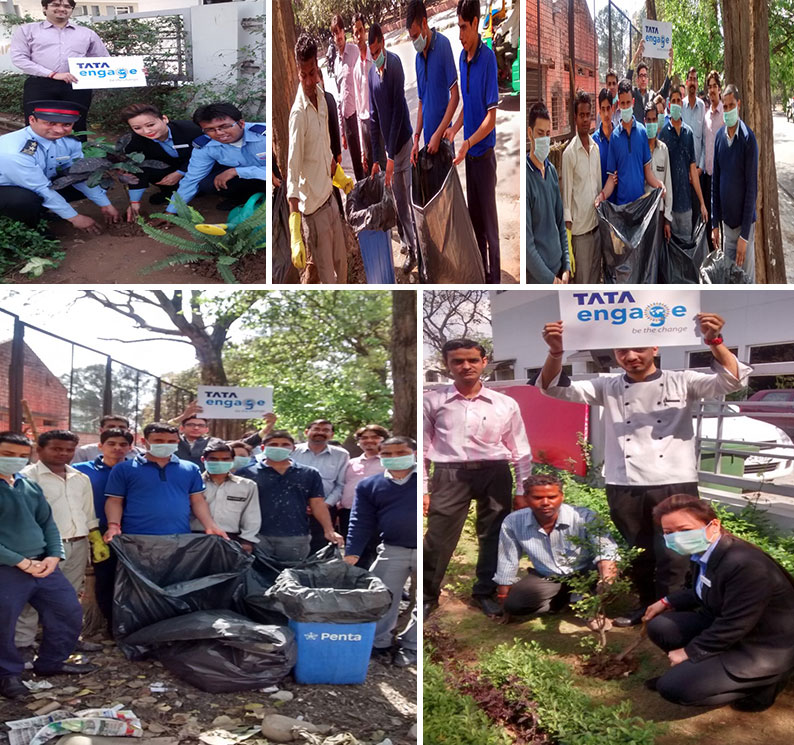 As the initiative says 'Swachh Bharat ' is a campaign initiated by the PM of India Sri Narendrabhai Modi on Gandhi Jayanti last year. The underlying reason for this campaign is to fulfil the vision of Mahatma Gandhi for a clean India. Swachh Bharat Abhiyan should be approached with a bipartisan spirit of patriotism. A team of 12 members participated in the activity of cleaning the surrounding area adjacent to the hotel, under the focus area "Cleanliness". During the activity, the team members also actively participated in Tree plantation near the hotel surroundings. Thought behind the same is all said about cleanliness is godliness. For a healthy society we require healthy people. The habit of cleanliness will make a healthy nation and will make a clean India.
| | | | |
| --- | --- | --- | --- |
| | | Swachh Bharat Abhiyan | Indian Hotels | Jaipur |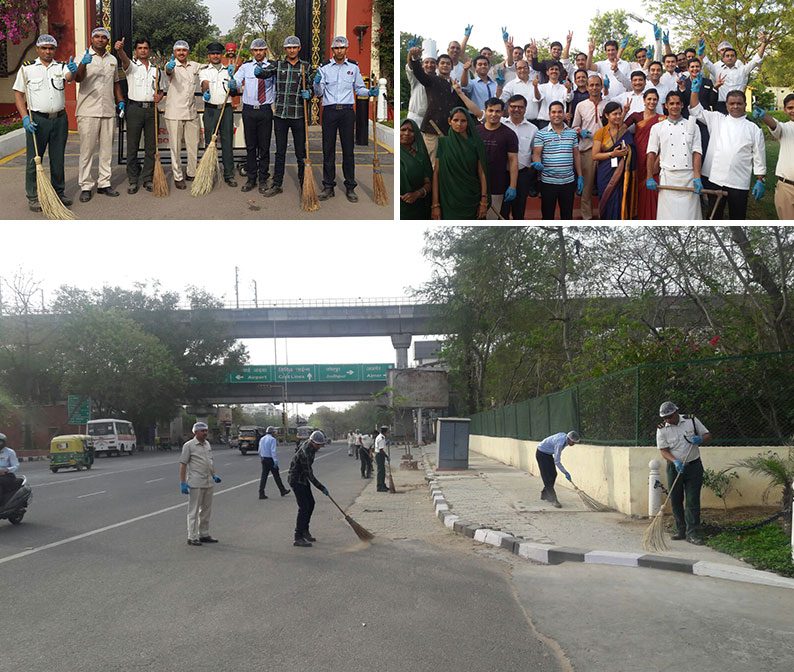 The culture at Taj roots back to the olden golden traditional ways of life, yet they are up-to-date in service and style. Culture is created over a period of time with contentious efforts and practice. Clean environment is a happy environment. At Jai Mahal Palace, General Manager inspired the entire team to drive cleanliness in many ways. It is not compulsory, it has to be voluntary. This approach made a huge difference in the entire team. Initiated a cleaning drive as part of the Tata Volunteering Week. Now it became a practice. This time the road in front of the main entrance of the palace was cleaned by the team members.
| | | | |
| --- | --- | --- | --- |
| | | Awareness session | Indian Hotels | Jodhpur |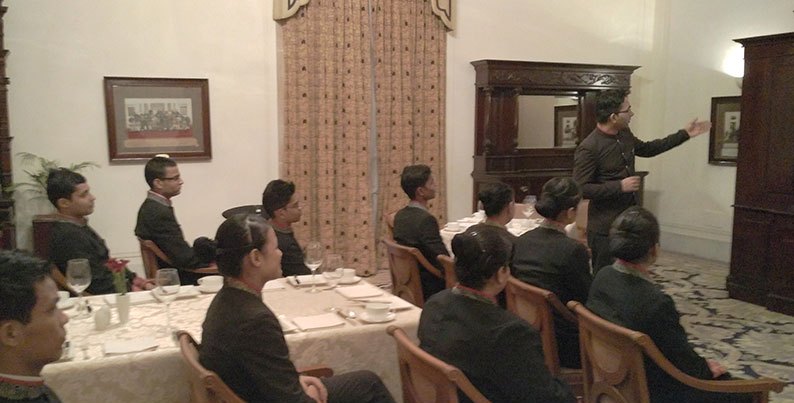 Session is a way to store information that can be use for future reference. Food & Beverage department team member took initiative to provide information to hotel management college students. Session started from introduction from each other so students can be familiar with trainer. Students started taking interest when the video was shown, and a presentation about the topic was made. Students enjoyed the session thoroughly and at the end of session students were clear about topic and specially thanked the facilitator. Hence, Umaid Bhawan palace took step to educate people and awareness session about study related topic. So that students can grab information, convert into learning and can perform well.
| | | | |
| --- | --- | --- | --- |
| | | Special lunch for girls | Indian Hotels | Jodhpur |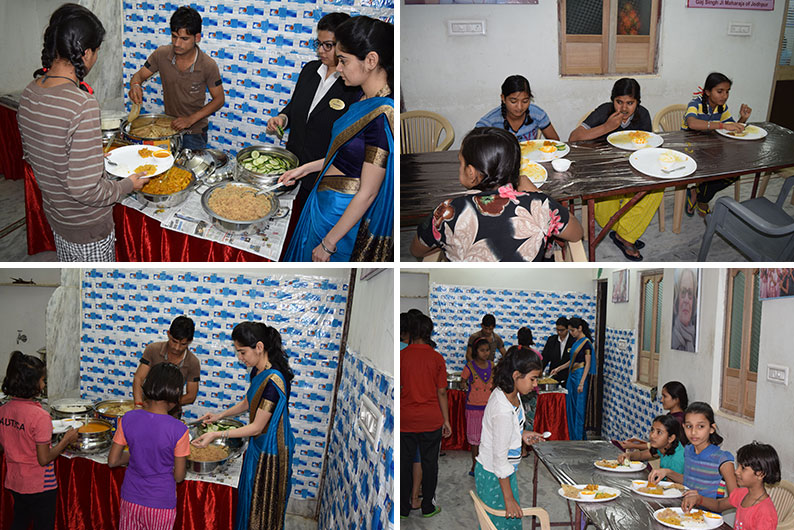 "Always take balanced diet" As per Hindu methodology our body is like a temple, we should care for it, we should nourish it and we should have balanced and healthy diet to keep our body energized. In day to day sometimes girls skip their diet which is not good for health. To keep in mind health of our girls, An initiative taken by Umaid Bhawan Palace , Jodhpur to their Veerni girls. Under this every Saturday we send food for them. Our Executive Chef make menu for girls, to keep in mind their health. Dal, Mix veg, Chapati, green salad, rice and Halwa in sweets. Girls enjoyed lunch very much and felt delightful to have tasty and yummy food.
| | | | |
| --- | --- | --- | --- |
| | | Women empowerment | Indian Hotels | Jodhpur |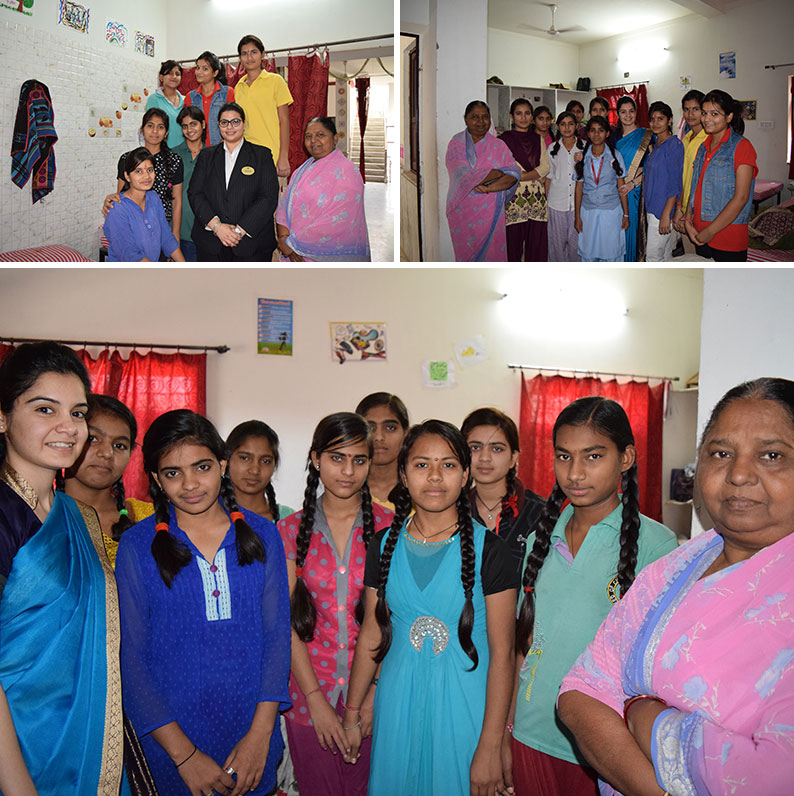 Team Human Resources of Umaid Bhawan Palace recently took the session of Veerni girls, Veerni project as the name suggested Veerni is a name of bravery, courage and capability to do and show their confidence to the world. Here, girls who belongs from under privilege society came to gain knowledge and for study. Team HR took initiative to give one more edge in their daily curriculum activity. The team of Human Resources was present there to provide basic knowledge to the girls about what we are, who we are and what we are capable of, to motivate the girls to do excellent in future also gave examples of successful woman e.g. Ms. Indra Nooyi and Ms. Chandra Kochar where Ms. Himani Sharma representative from HR department also guided the girl's to keep proper hygiene and safety in their work.
| | | | |
| --- | --- | --- | --- |
| | | Accelerating Gender Parity | Indian Hotels | Udaipur |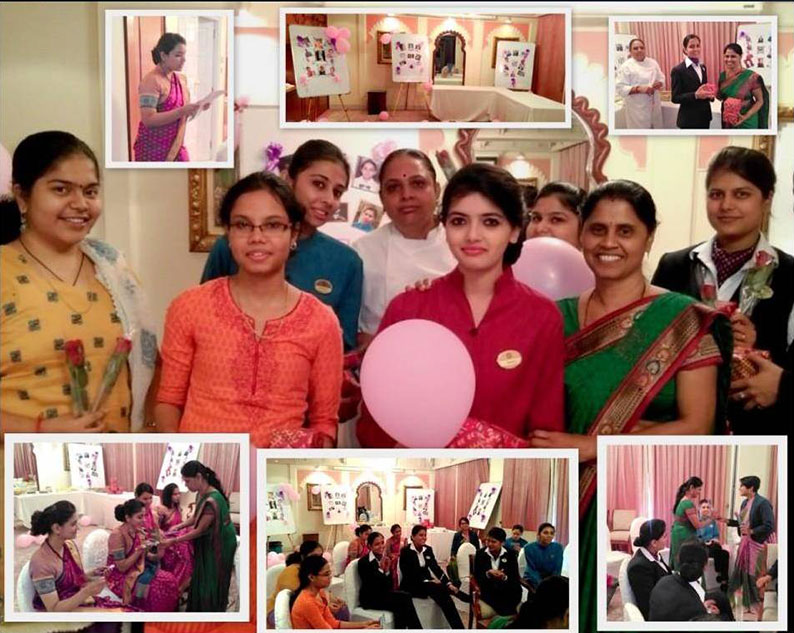 8th March 2016, the International Women's Day was celebrated in full spirit at Taj Lake Palace. Not only that it was celebrated, but it was also a call to action to accelerate gender parity. A picture gallery dedicated to all ladies in the hotel was made on the pathway to the Associates' Dining Room.
The Associates' Dining Room looked splendid with International Women's Day themed decoration. A high-tea was organised in Mewar Mahal exclusively for the lady associates. The senior associate in the hotel gave a wonderful welcome speech. Ladies were offered flowers and chocolates. Videos on social, economic, cultural and political achievement s of Indian women were screened. Over laughter, conversation, a fun bout of housie and a ladies' special hi-tea, the ladies had a scintillating time.
Later they mentioned that they were overwhelmed by the demonstration of MUTUAL RESPECT & PLEDGE FOR PARITY exhibited in reality.
| | | | |
| --- | --- | --- | --- |
| | | Donation drive | Tata Business Support Services | Hyderabad |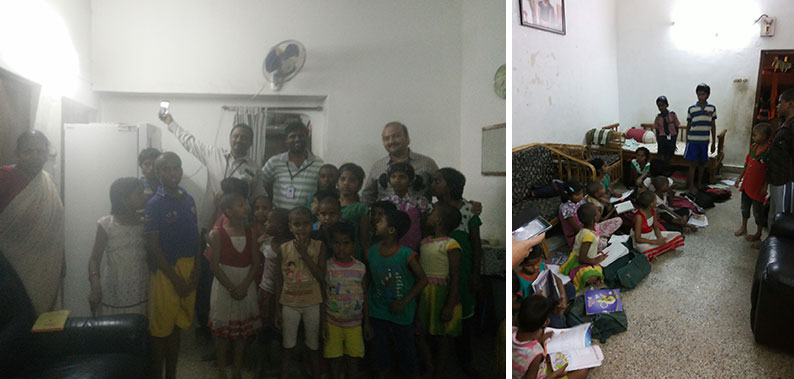 Tata BSS Hyderabad volunteering team spent quality time with the children at Sraddha homes for differently abled & orphans. They donated provisions such as rice and had a reading session with the kids.
| | | | |
| --- | --- | --- | --- |
| | | Donation drive | Tata Business Support Services | Mumbai |

Thane volunteering team visited Ma-Niketan Foundation home for destitute children and distributed snacks, clothes & toys.
The children were ecstatic with the gifts and expressed their profuse thanks to the team.
| | | | |
| --- | --- | --- | --- |
| | | Visit to an old age home | Tata Business Support Services | Mumbai |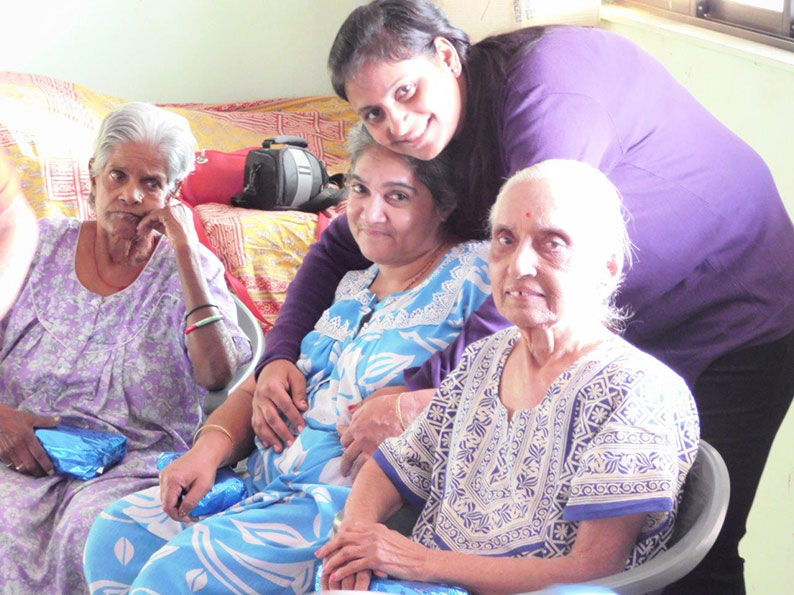 Eight member volunteering team led by Tata BSS COO- Naozer Dalal visited Smit Old Age Home in Thane. They spend hours listening to the life stories and grievances of the residents of the old age home. Happy with the interaction, the residents appreciated the team for being so kind and generous. The team also distribute snacks, clothes & toys.
| | | | |
| --- | --- | --- | --- |
| | | Rangoli competition for women | Tata Chemicals | Tamilnadu |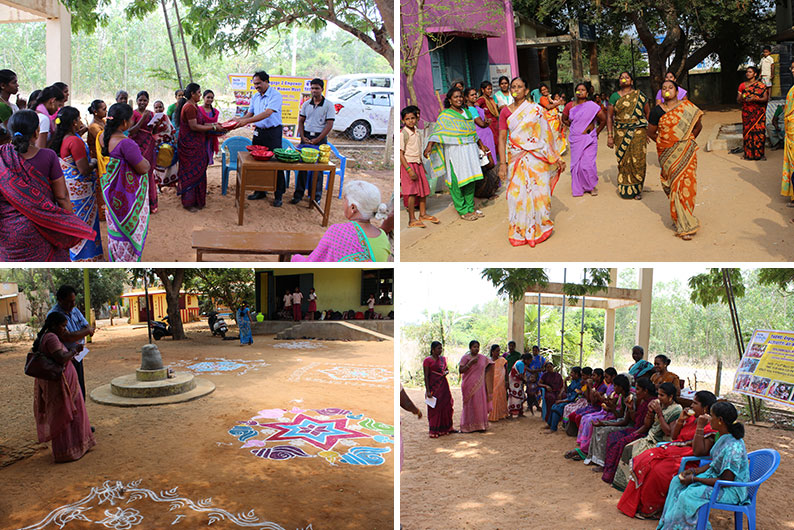 As part of the International Women's Day, Tata Chemicals Limited in partnership with CCD (NGO) organised "All Women Meet" on 8th March 2016 in 2 locations A.N.Kandigai and Ulundai b/w 10.00 AM to 5.00 PM., in which more than 100 women participated with enthusiasms. As per Tamil tradition the event started by the 'Rangoli Competition' and speech performances by the women which was followed by cultural, sports and recreational events and programs like speech, quiz, musical chair, throw ball, running race, lemon and spoon race, banana eating competition, bun eating competition, balloon blasting and memory games. All the women actively took part in the program.
The volunteers spoke on the importance of women's day in context to present status of women. They also appreciated the creativity and enthusiasm showed by participants and encouraged them to be bold and courageous. The participants delivered speech, experience sharing and poems on women related issues.
There was also participation of government school teachers who congratulated and encouraged the winners and thanked and appreciated this initiative of Tata Chemicals. The participants expressed their joy and happiness and shared that "after childhood, today they got this opportunity to participate in games and cultural activities.
| | | | |
| --- | --- | --- | --- |
| | | Recycle corner | Tata Communications | Delhi |
To encourage and support the theme of Nurture Nature-'Reduce-Reuse-Recycle' in Tata communications during TVW-5 , on 11 March 2016, TATA Communications volunteers decided to come up and encourage women beneficiaries of a Self Help Group (SHG) by appreciating and making the items that they make for their livelihood. 19 enthusiastic volunteers made 16 pair of earrings, 5 key rings and 1 necklace using newspaper which is often thrown out after reading the headlines. This activity has just not supported the SHG women in their livelihood initiatives but also encouraged all the employees to think about reducing and reusing the waste in most appropriate manner.
| | | | |
| --- | --- | --- | --- |
| | | Snake-Ladder/ Dustbins from pet bottles | Tata Communications | Pune |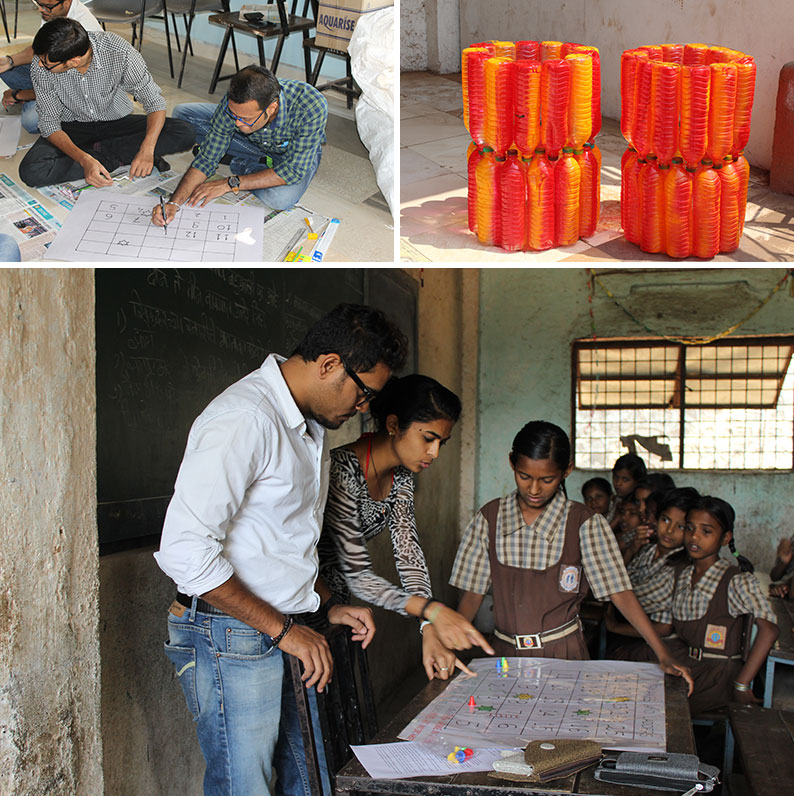 The children of Sant Garoba School, Viman Nagar had a memorable day on 12th March owing to the 13 volunteers who shared their knowledge and time with them. The volunteers made two colourful dustbins from pet bottles for the school to use to promote a clean environment. Volunteers also patiently sat and made snake and ladder game boards under the theme- Reduce, Reuse and Recycle. They played the same with the children thus reinforcing the ideas Nurture Nature.
| | | | |
| --- | --- | --- | --- |
| | | Blood Donation Campaign | Tata Consulting Engineers | Mumbai |

Continuing our tradition of celebrating Founder's Day; a Blood Donation Camp was arranged at our office at 247 Park on Thursday, 3rd March 2016 in association with Tata Memorial Hospital. This is the Ninth consecutive year of this activity.
We had received an over whelming response from the employees along with clients who participated in this Campaign. A total of 163 units were collected which shall be used for treatment of Cancer affected patients who are unable to manage to pay for the blood units in the hospital.
| | | | |
| --- | --- | --- | --- |
| | | Career Counselling Program | Tata Consulting Engineers | Mumbai |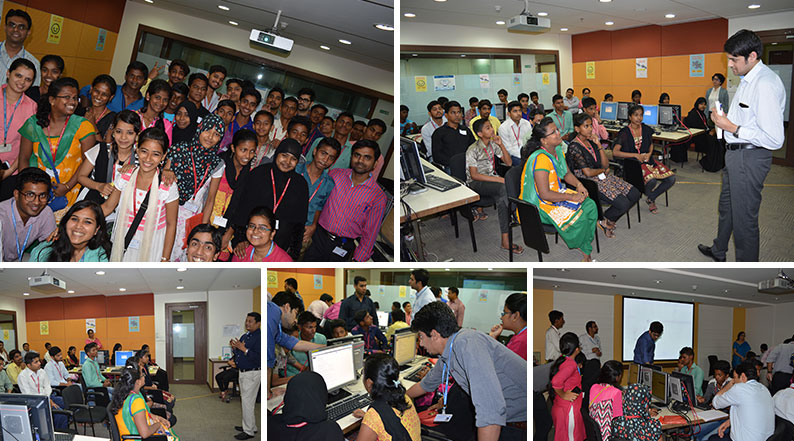 In continuation to our career counselling program from the previous volunteering weeks, a group of 33 students from Antarang Foundation Visited our office on 9th March 2016 to attend the career counselling program.
The program was kicked off by showcasing the various opportunities in the engineering firms starting from AutoCAD, PDMS operators, modellers and data entry operators'. Finance department highlighted various opportunities in the finance sector starting from Tally, accounting and he gave an insight on the procedures of becoming a CA.
Two team members highlighted the various possibilities for joining the army along with the various procedures. They gave an insight on the various recruiting centers across India and requirement criteria for an individual for joining the army.
Tata Motors along with Vedanta Vocational Institute shared with the kids the various vocational trainings provided by Vedanta for under privileged kids at highly affordable rates compared to private institutions. The session was an eye opener and also in the area of interest of these kids.
A team member shared her experience in being a dancer along with the various opportunity in the media industry.
A basic computer training program involving of creation of Gmail and job searching was conducted at the end of the session for the kids. Some of the Kids created their individual email addresses and also sent a mailer to their respective trainers at Antarang.
With a total of 25 Volunteers and 33 students from Antarang made this event a highly successful and an effective session of Career counselling for these young minds.
| | | | |
| --- | --- | --- | --- |
| | | Distribution of furniture | Tata Motors | Jamshedpur |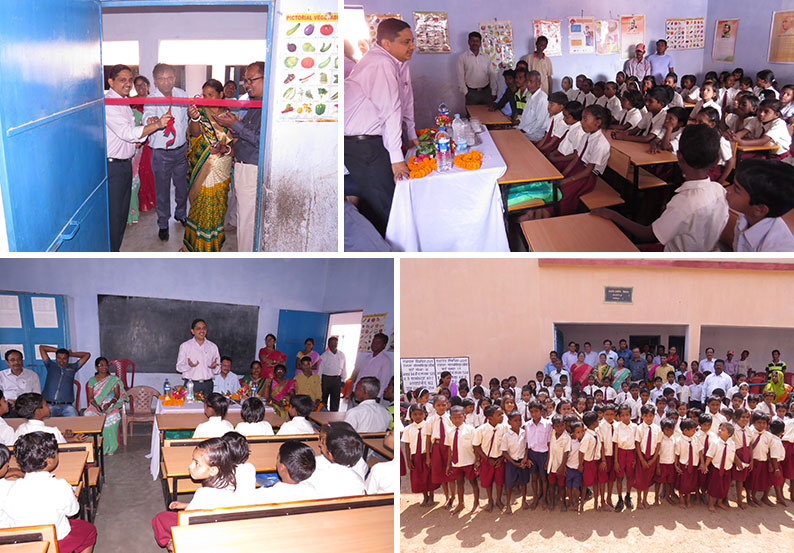 The CSR head, Tata Motors went to a Government Primary School at Bara Govindpur and distributed school furniture. The children, Principal, Teachers, Members of the School Managing Committee and Mukhia welcomed him in traditional manner and expressed gratitude towards Tata Motors for its human face beyond business. In his address exhorted the need amongst children to respect their parents, teachers and study hard for achieving whatever they would like to aspire in their lives.
| | | | |
| --- | --- | --- | --- |
| | | Visit to a school | Tata Motors | Pune |
Customer support team visited 'Punarutthan Samarasta Gurukulam', which is located at Chinchwad gaon, it is the home and school of more than 350 children (boys & girls) who are the wards of nomadic tribes. These children's are getting basic education & also learning the various skills in small workshops available in the premises. We have donated some useful daily needs items like Water tank, Pedestal Fans, Cleaning mops & Dust Bins. Our team consist of around 46 volunteers & we have spent around three hours with the children's.
| | | | |
| --- | --- | --- | --- |
| | | Awareness drive | Tata Sponge | Orissa |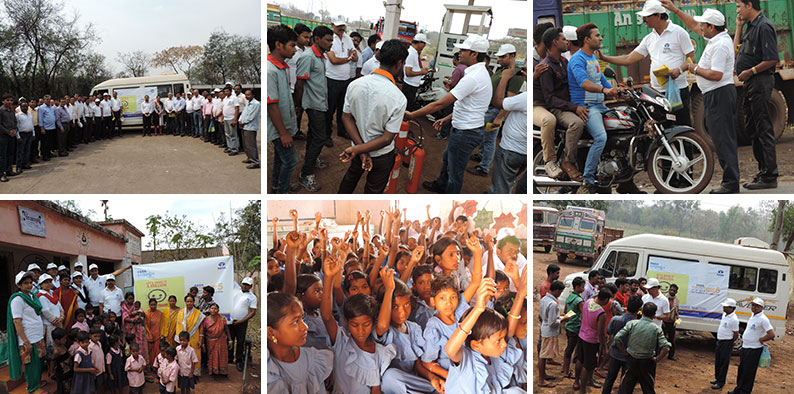 During past few days, TVW 5 has become a buzzword in & around Tata Sponge Iron Limited. In this process 188 volunteers participated out of which 113 are employees, which is 27% of Company's total employee. Moreover, 41 family members and 34 villagers participated in this weeklong programme.
In this volunteering process, Tata Sponge made conscious and holistic efforts to address multifarious activities to promote rights/ entitlements among various segment of population living in surrounding Gram Panchayats.
| | | | |
| --- | --- | --- | --- |
| | | Joy of Giving | Tata Steel | Jamshedpur |

As part of TVW5 a team from JDC Mechanical Maintenance of Tata Steel visited Nishchintpur and conducted a combined programme Joy of Giving was organised for Tilaidih, Chirugora and Marchagora primary school. JDC Mechanical Team in guidance of theVP Shared Services interacted with children and distributed bags, food stuff, gifts, and stationeries items etc. Gram Pradhan and other villagers were also present during the programme.
| | | | |
| --- | --- | --- | --- |
| | | Special camp | Tata Steel | Jamshedpur |

A Single Window Camp for the especially abled persons is organised by the Urban Services at Dhatkidih Community Centre. Specially-able persons are being certified by the doctors and Disability Certificates along with other government facilities like railway concession, ID card etc. are distributed.
During the camp volunteered their service for the overall conduct of the camp. The volunteers helped the team in registrations, helpdesk, and crowd control and helped the doctors in their investigations. Volunteers also helped the especially abled persons in filling up of the various forms.
| | | | |
| --- | --- | --- | --- |
| | | Handball training | Tata Steel | Jamshedpur |

A handball training session was organised by a National Handball player for the youth of R.D.Bhatta Community Centre.
| | | | |
| --- | --- | --- | --- |
| | | Tree plantation | Tata Steel | Jamshedpur |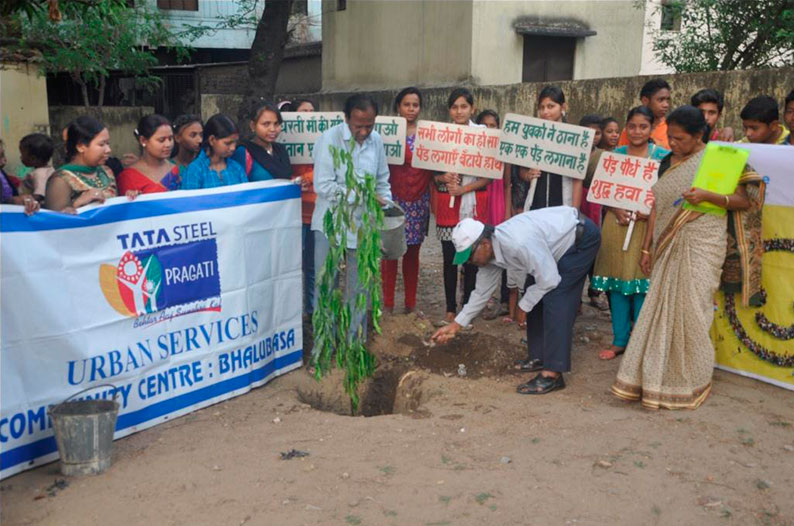 A tree Plantation drive was organised by team members at Bhalubasa Community Centre.
| | | | |
| --- | --- | --- | --- |
| | | Karate class | Tata Steel | Jamshedpur |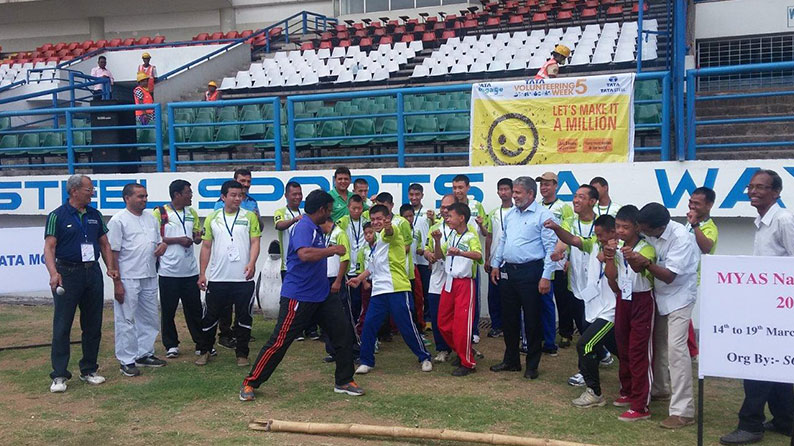 Total of 20 children (including teacher / coach) of Manipur Special Olympic Bharat Children (Disabled children) had attended. It was organized by a team member at JRD Tata Sports Complex. Karate Coach has given tips to children on self defence.