| | | | |
| --- | --- | --- | --- |
| | | Women's Day celebration | Indian Hotels | Coimbatore |

Vivanta by Taj Surya has celebrated 'The Women's Day' on 8th of March, a Saturday for all women employees, our chattels. The program was graced with the presence of the General Manager along with the entire hotel's department's H.O.D. All the women employees were invited for a cake cutting lead by the General Manager and HR Manager. Every single women employee was treated special for being a part of the prestigious organization by gifting them with a rose and a chocolate gift. The male employees enlightened the occasion by decorating and participating emboldening women's empowerment.
As an add-on, tea and snack were also supplied to their seats. Every activity planned for the day was to encourage women folks and to make them feel special. "The empowered woman is powerful beyond measure and beautiful beyond description", this thought was carved in everyone's mind.
Therefore the day ends with a beautiful message, "there is no force equal to a woman determined to rise". Thus the day was made a memorable one.
| | | | |
| --- | --- | --- | --- |
| | | Clothes donation drive | Indian Hotels | Coimbatore |

As a part of Tata Volunteering week 5, we Vivanta by Taj Surya, Coimbatore team took an initiative by placing a box in staff cafeteria for the old clothes.
The Donated old clothes or old linens has been sent to Sree Anbalayam Charitable Trust. VBT Surya team will always glad to serve for the disabled lives and the needier; we have joined the hands for the good cause once again.
We lead as team under the Guidance the General Manager and HR Manager to follow the Quotes of Mother Teresa
"It not how much we give, but how much LOVE we put into giving."
Which remained as an inspiration to our entire associate.
| | | | |
| --- | --- | --- | --- |
| | | Building sustainable livelihood | Indian Hotels | Coimbatore |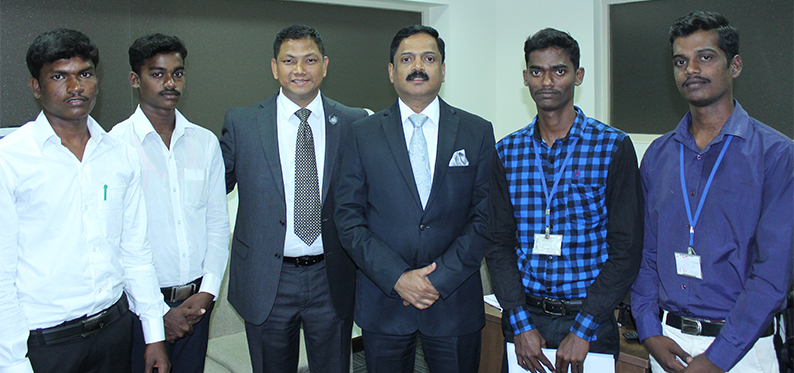 We Vivanta by Taj Surya, Coimbatore developed the thoughtful people through community initiative to build sustainable livelihood for under privileged students from SC/ST ,have created sustainable bases for increased income at the household level by giving the job opportunities to 4 SC / ST candidates ( 2 Candidates for Housekeeping & 2 for Food Production)
We have improved economic status through access to work opportunities and financial skills for boys living in poverty in targeted communities under the strong guidance of the General Manager who in believes in "A small group of thoughtful people can change the world, Indeed, it's the only thing that ever has "
The HR Manager along with his team delivered the thought of BUILDING SUSTAINABLITY LIVELIHOOD
| | | | |
| --- | --- | --- | --- |
| | | Safety awareness program | Rallis India | Lote |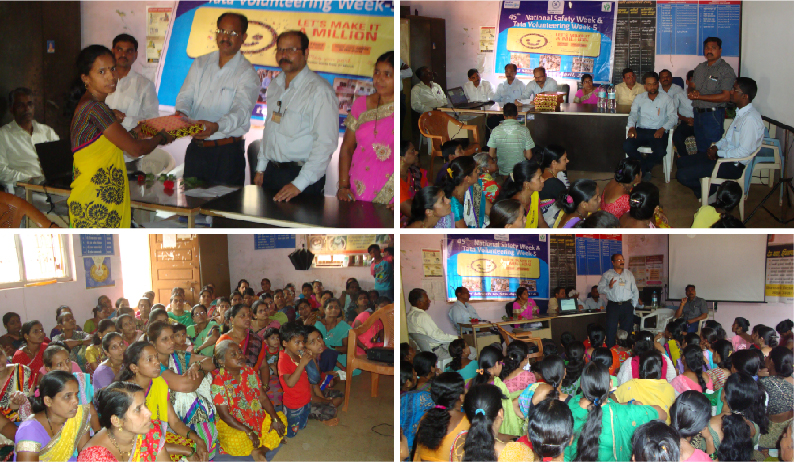 On 8th March, 2016 we (Rallis Lote Unit) have organized a Home Safety Awareness Programme for the Women's Group of Ghanekunt village. We have also celebrated Women's Day by conducting a general quiz competition on 'Great Women of India'. Prizes were distributed to the winners after the Home Safety Programme. There were 65 women were present in the awareness programme. The Lady Surpanch of Ghanekunt and few key personnel of the village were also present in the programme. From Rallis Eight Numbers Volunteers were present in the whole programme. All the participants and volunteers were enjoyed the event and expressed their thanks to Rallis and TATA Group.
| | | | |
| --- | --- | --- | --- |
| | | Spending time with children | Rallis India | Mumbai |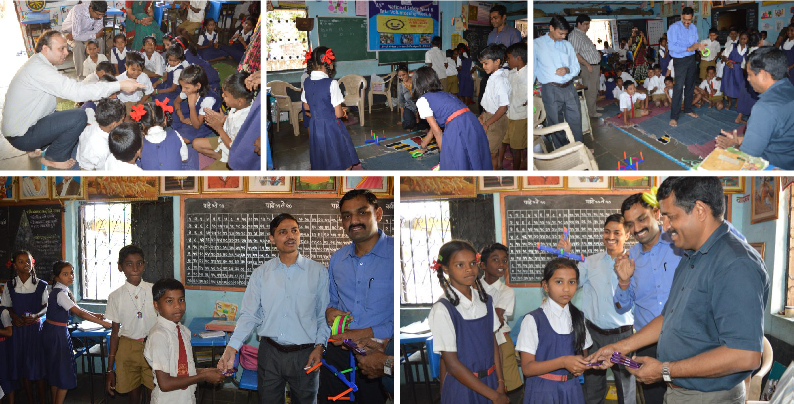 Rallis Volunteers have organized various indoor games for children of Z P School Barvai near Panvel on 9th March. Children learned alphabets and vowels through game with fun .To improve their general knowledge Volunteers introduced the game of Educational electro which contained Indian Wonders , our festivals, currency, good habits and manners, weather and nature etc . Through this game they gain the knowledge and enjoyed the fun . Volunteers also enjoyed playing with children.
| | | | |
| --- | --- | --- | --- |
| | | Blood donation Camp | Tata Business Support Services | Hyderabad |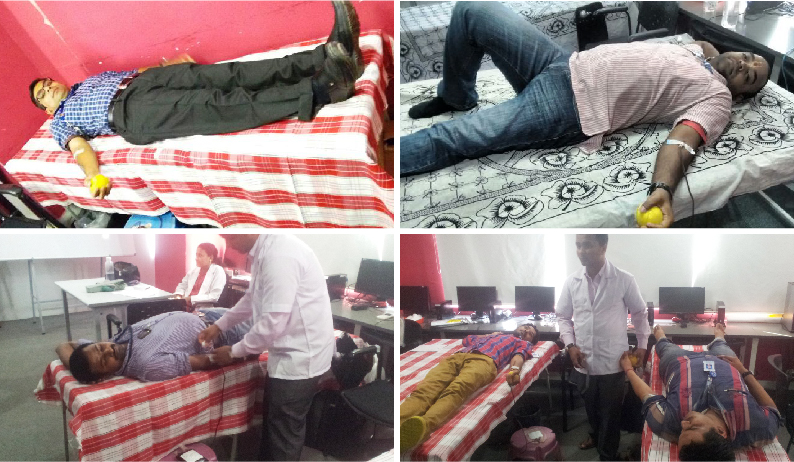 During the 2nd day of the Red Cross blood donation camp in Tata BSS office, the volunteers donated blood that will be mainly used for thalassemia children. Nearly 1000 thalassemia children are registered in their blood bank. Daily 30 to-40 children are given free blood and free transfusion in the blood bank.
| | | | |
| --- | --- | --- | --- |
| | | NGO/Self-help group stalls | Tata Business Support Services | Hyderabad |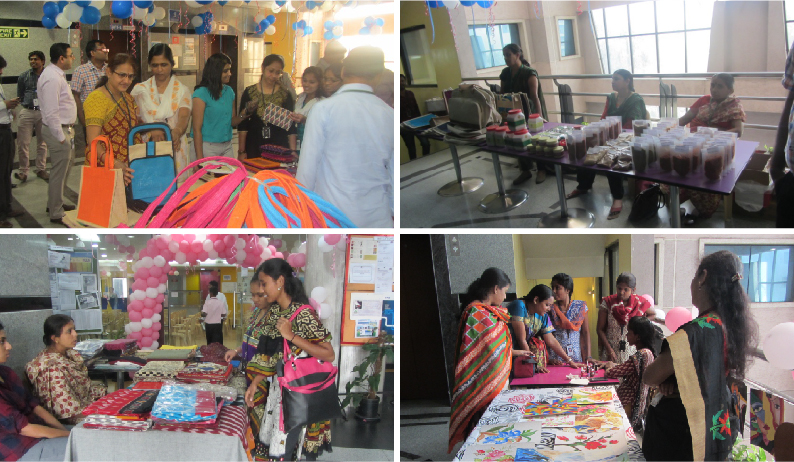 The stalls created a vibrant market place for NGOs' and Self Help Groups mostly from affirmative action background to sell their products at Tata BSS Office premises.
| | | | |
| --- | --- | --- | --- |
| | | International Women's Day Celebration | Tata Chemicals | Babrala |

On the occasion of International Women's Day (8th March), students of Vocational Training Institute of Tata Chemicals Ltd. Babrala celebrated the event with women community members.
In the event, the sessions were on singing, discussion on empowered women, and film review etc. Everybody present in the event was very happy and rejoicing their womanhood. The volunteers from Tata Chemicals Ltd and TCSRD helped in organising the event.
| | | | |
| --- | --- | --- | --- |
| | | Visit to a Community Health Clinic | Tata Chemicals | Babrala |

Tata Chemicals Ltd., Babrala organises Community Health Clinic on Wednesdays and Saturdays of every week. Today (on 9th March, 2016) three volunteers participated at the OPD of the Community Health Clinic. There are multiple process in the Clinic – like weight tracking, registration, doctors consultation, medicine distribution and counselling. Volunteers helped in weight tracking, patient registration and counselling processes.
| | | | |
| --- | --- | --- | --- |
| | | Volunteers made Recyclable Paper Bags | Tata Communications | Kolkata |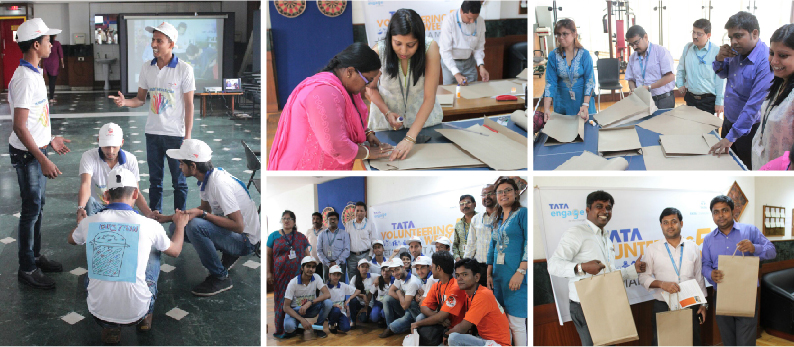 Tata Communications has taken the Nurture –Nature as a theme to organize volunteering activities at a pan India level. On 9th March 2016 volunteers from Kolkata region made recycled paper bags to support our cause "Reduce-Reuse-Reuse". 74 Volunteers participated enthusiastically to make this event a lively one.
The activity began with the beautiful song by the children from a not for profit organization "World Vision" followed by a skit on environment. The skit was around the 3R and gave a message on segregating waste in a proper manner. Volunteers were appreciative of the theme of skit which left a lasting impression on every body present there.
After the awareness session a paper bag making activity was organized where 15 children and volunteers made 50 paper bags.
| | | | |
| --- | --- | --- | --- |
| | | Launch of the volunteering week | Tata Motors | Jamshedpur |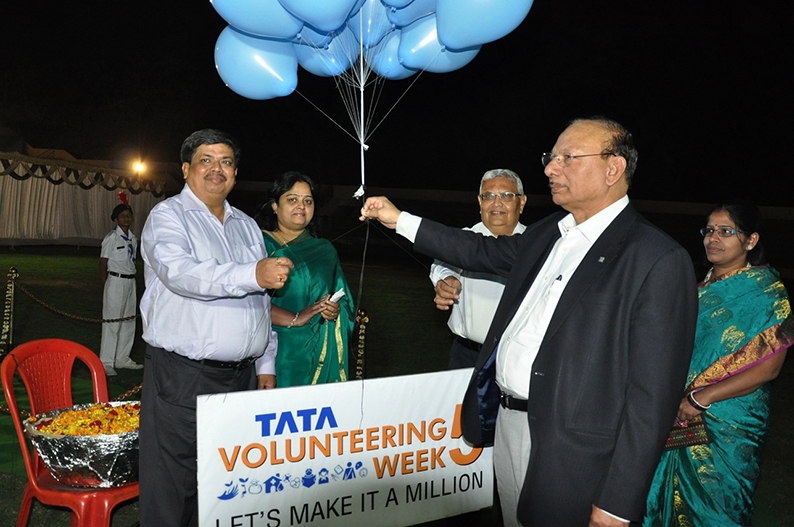 TVW5 was launched ceremoniously on the evening of 3rd March, 2016 at Tata Motors, Jamshedpur through release of balloons with the message of TVW5 by senior leadership which included the Executive Director - Quality, Senior Vice-President - Head-Manufacturing Operations, CVBU, Head-Jamshedpur Plant and President, Manasi Club.
| | | | |
| --- | --- | --- | --- |
| | | Furniture distribution | Tata Motors | Jamshedpur |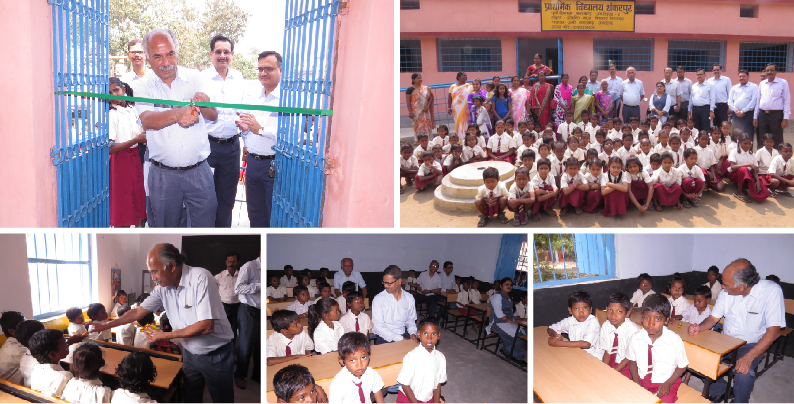 Employee Volunteers from Finance and CTR & MB MFG visited Primary School at Shankarpur village and distributed desks, benches and sweets to the school children. The children sitting hitherto on the floors, would now sit comfortably with dignity while attending classes. The village Mukhia, Principal, Teachers, Members of the School Managing Committee and mothers present during the occasion thanked Tata Motors profusely for extending infrastructural support to the school while the children welcomed the volunteers with generous showering of flower petals. The interaction with the children was mutually satisfying and the volunteers were touched to see the children happy.
| | | | |
| --- | --- | --- | --- |
| | | Celebrating International Women's Day | Tata Motors | Jamshedpur |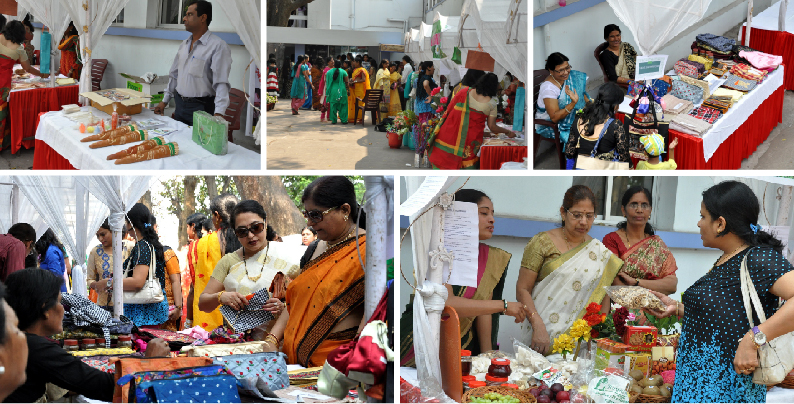 On the occasion of International Women's Day celebration, female employees and family members visited stalls put up for sale of products prepared by women SHGs, Special Children and Rural Artisans. They appreciated and encouraged them by buying their products. Such kind gesture on part of those visiting the stalls and buying the products will go a long way in raising the morale of the producers.
| | | | |
| --- | --- | --- | --- |
| | | Free Organic Manure Distribution to Farmers | Tata Technologies | Pune |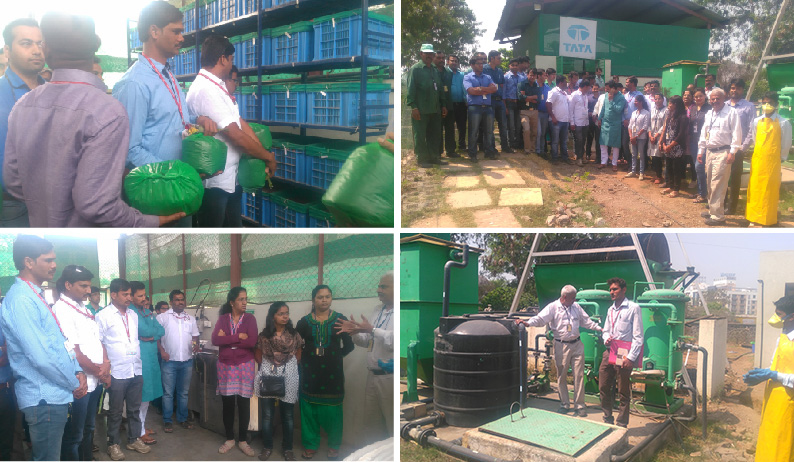 Tata Technologies has become a Zero Discharge Company as it has its Organic Waste Converter & Sewage Treatment Plant, which recycle its canteen waste and create Organic Manure. Also through Sewage Treatment Plant black water converts in to grey water which becomes useful for internal gardening. Today on the occasion of TVW5, Tata Technologies Volunteers distributed free manure to Hinjawadi farmers.