| | | | |
| --- | --- | --- | --- |
| | | Launch ceremony of TVW5 | CGPL | Gujarat |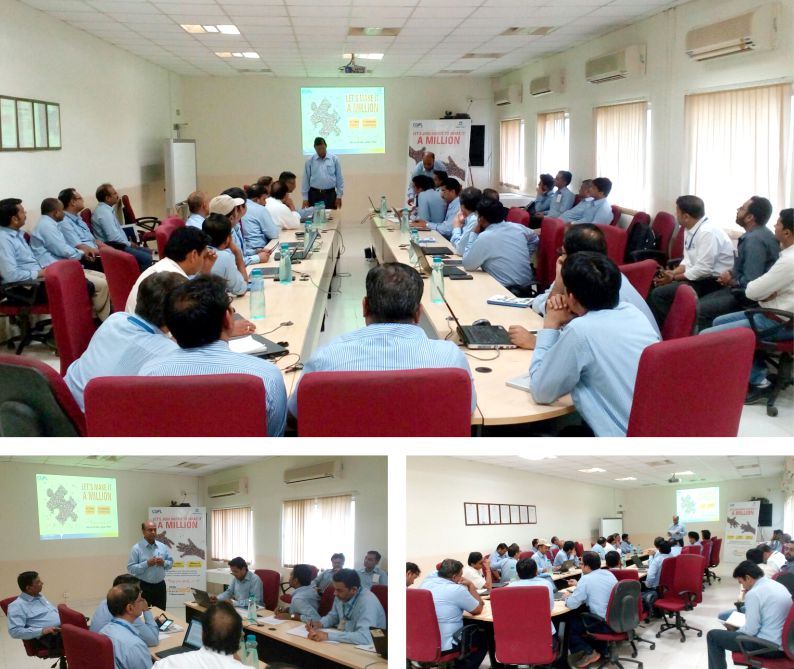 TVW5 was launched on 3rd March, 2016. ED and CEO, CGPL inaugurated the Tata Volunteering week- 5 and appealed to the CGPL volunteers to participate with full vigour in the coming weeks. He also encouraged the CGPL (Tata Power) volunteers to participate and contribute the time generously for the Social Causes.
| | | | |
| --- | --- | --- | --- |
| | | Cleanliness drive | Ginger Hotels | Bhubaneshwar |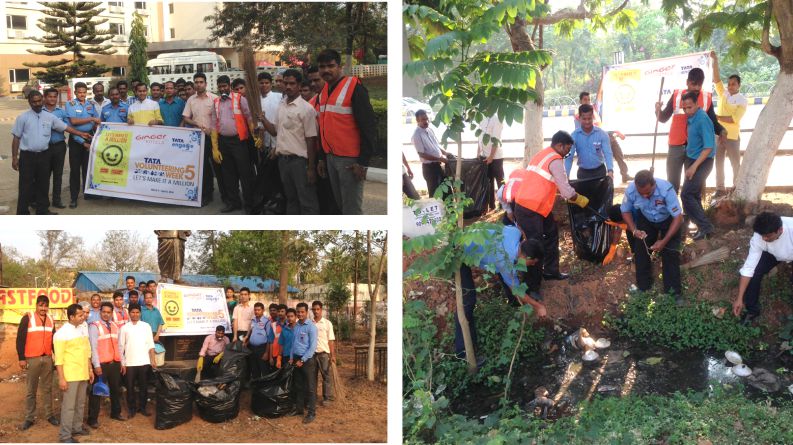 Swachh Bharat Abhiyan cleanliness campaign was conducted by the Staff and Vendor/ Partners of Ginger Hotel Bhubaneshwar on 03 March 2016 on the Jayadev Vihar Road walking pavements which had plenty of plastic, bottles, cigarette packets and other undesirable things thrown on the pavements. Our staff collected all those things from the road side and also cleaned up the pavements.
| | | | |
| --- | --- | --- | --- |
| | | Awareness on health and hygiene | Ginger Hotels | Vizag |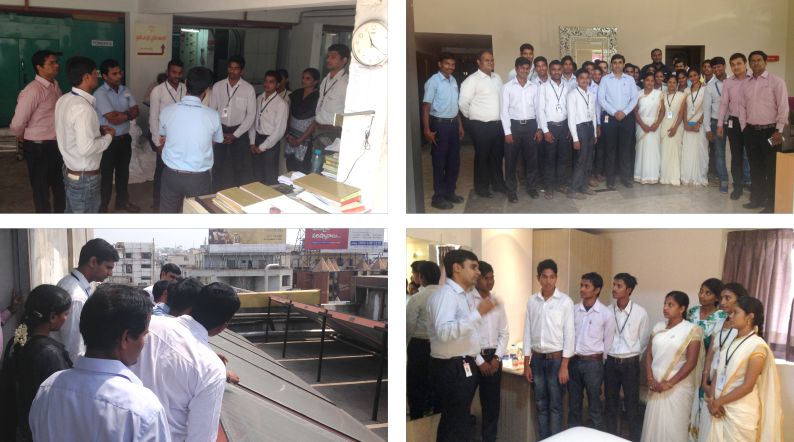 Ginger Vizag team participated in Tata Volunteering week 5 activity at the hotel premises. 18 Students from Dr Reddy's Foundation (NGO) Visakhapatnam branch visited the hotel. The staff briefed all the students about the Tata Group & Ginger Hotels. The Students were escorted to all the departments by hotel team and were given details about their daily operations. A training class on Hygiene and cleanliness was conducted for all the students. The facilitators from Dr. Reddy's Foundation thanked Ginger Hotel team for giving opportunity to their students.
| | | | |
| --- | --- | --- | --- |
| | | Cleanliness campaign | Indian Hotels | Coimbatore |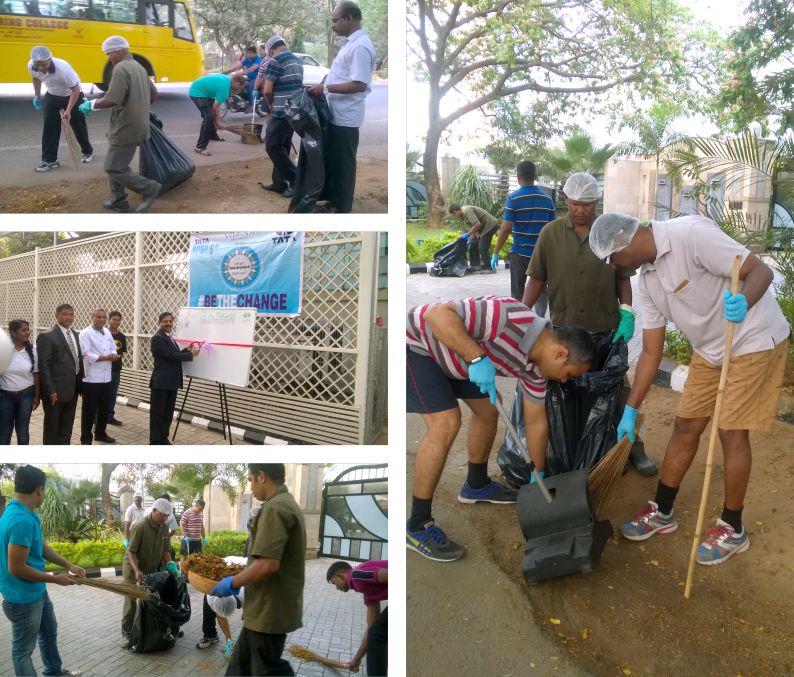 As a part of TATA VOLUNTEERING WEEK 5, Vivanta by Taj Surya, Coimbatore started with a Foot print of Volunteering Wall – with a quote of "Save Energy – Save the Planets" which was carved first by the General Manager on the Wall, which really made a difference and remained as an inspiration for HODs & our associates. The HR Manager flagged this great initiative, with a beautiful Quote "Open the Heart – Be Human to help the needy". The staff conducted a cleanliness campaign as their testament to a beautiful India. By end of the day Vivanta by Taj Surya Team made the Quote "TATA ENGAGE –BE THE CHANGE I Have got Tata engaged Have You?" True and lively.
| | | | |
| --- | --- | --- | --- |
| | | Swachh Bharat Abhiyan | Indian Hotels | Jaipur |

The culture at Taj roots back to the olden golden traditional ways of life, yet they are up-to-date in service and style. A clean environment is a happy environment. At the Taj, they believe to keep the place inviting and pleasant no matter what. Also, their objective is to promote the Government's Swachh Bharat initiative. Jai Mahal Palace Jaipur, led by General Manager, initiated a cleaning drive as part of the Tata Volunteering Week on 3rd March 2016. A true leader in thought, words and action, GM took a small group of people with him to clean one particular area of the Palace. The participation was simply astonishing. The message spread like a virus and the entire team of Jai Mahal Palace united to drive cleanliness. The two hours long activity was a demonstration of complete dedication to serving nothing but the best to whoever walks into the Taj. After all, cleanliness is the heart of a good environment. Other team members were invited to witness the positivity of a good clean environment and the entire act was a great step to encourage self-sufficiency. The Taj prides on its values that date back to the good old days and stand steadfast to support the contemporary ideology.
| | | | |
| --- | --- | --- | --- |
| | | Volunteers spend time with young children | Indian Hotels | Mumbai |

Volunteers from Taj Corporate office and South Mumbai Hotels (Taj Mahal Palace, Taj Wellington Mews and Vivanta by Taj – President) joined hands with Tata Teleservices to educate the less privileged 3 to 5 year olds supported by partner NGO, Prem Dan. Through skits, songs & dance, games and art & craft, the children were taught the importance of hygiene, cleanliness and safety. The little ones were taught how to make paper bags out of newspaper and pencil stands and other items with PET bottles. Skits and song & dance was used to teach them aspect of personal safety. Hygiene and cleanliness was taught through a video and song & dance. Games were used creatively to reinstate the topics discussed inside the classroom. It was an educational and enjoyable day for the children, teachers and volunteers.
| | | | |
| --- | --- | --- | --- |
| | | Aloe Vera plantation | Tata Chemicals | Mithapur |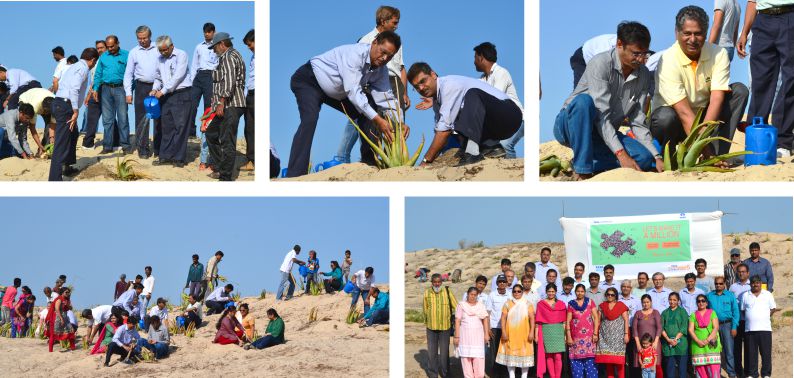 The Mithapur region in Gujarat where Tata Chemicals owns and operates its chemical plant is a peninsula covered by sea on three sides.  The region features a wealth of marine and coastal biodiversity, some of which is endangered.  A comprehensive program with multiple volunteering activities designed at strengthening and protection of marine coastal ecosystems at Mithapur shall be the focus of the month long Tata Volunteering Week-V program.  These activities are planned to sensitize TCL employees, family members and the community at large on biodiversity conservation and encourage them to participate in conservation efforts.  The volunteering program was launched on 3rd March '16 morning with Aloe Vera plantation activity for stabilization of the coastal sand dunes at Mithapur.  Senior executives, employees and their family members participated.  A field survey for wetland development at Chandra Bhaga near Mithapur was also organised later in the day.
| | | | |
| --- | --- | --- | --- |
| | | Blood donation drive | Tata Motors | Mumbai |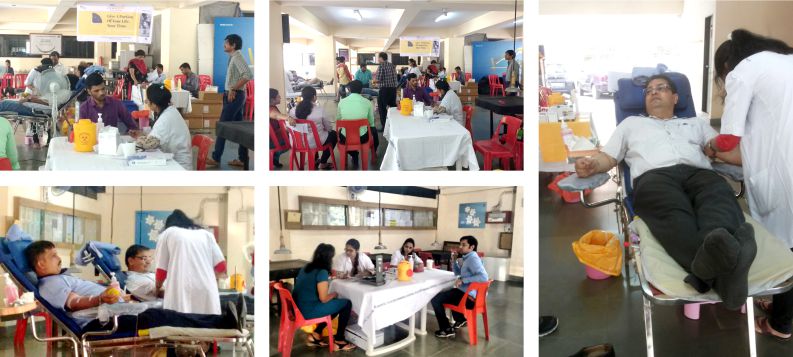 A Blood Donation Drive for employees was organized by Tata Motors at its Thane Office with help of Tata Memorial Hospital, Dept. of Transfusion Medicine on 2nd Mar 2016. Total 53 units of blood were donated by 53 nos. of volunteers. Donor volunteers comprised of colleagues from Tata Motors, Tata Technologies, TCS and Deloitte (consultants). Volunteers expressed gratitude for being given this opportunity to help the needy cancer patients.  Acknowledging their noble gesture, all donors were awarded 'Certificate of Appreciation' from the Cancer Hospital and 'Thank You' Cards from Tata Motors.
| | | | |
| --- | --- | --- | --- |
| | | Formation of "Children's Assembly" | Tata Sponge | Orissa |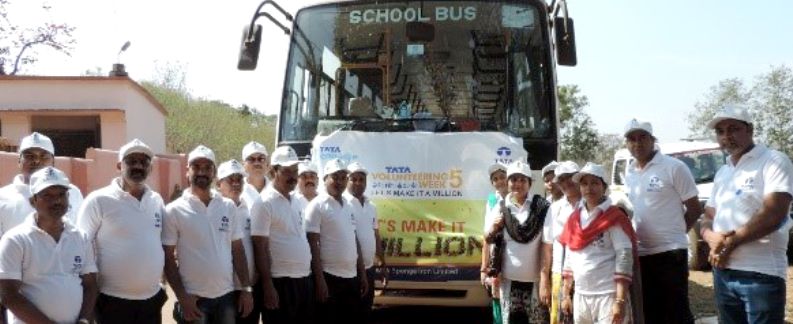 This was first of its kind of experience for the teachers and students and some of our volunteers. We had a discussion with the students regarding the issues around the education, school and village. The volunteers facilitated a discussion on how to select Ministers and Cabinet and explained them their roles and responsibilities to address issues like; Child labour, School enrollment, retention in School, Health & Hygiene, Safety, Sports & Entertainment, Environment, Address alcoholism & drugs, etc. Students, enthusiastically participated in this process and vowed to make their school a model. Teachers and parents appreciated this endeavor of Tata Sponge.
| | | | |
| --- | --- | --- | --- |
| | | Computer Class | Tata Sponge | Orissa |

The volunteers briefed the students on the importance of computer classes in this age. They also demonstrated how it helps them make work easy. Students, Parents and Teachers expressed their support to enable the students to learn faster in interactive ways. 
| | | | |
| --- | --- | --- | --- |
| | | Visit to Anganwadi | Tata Sponge | Orissa |
During the visit, parents were sensitized to send their children to this preprimary center regularly. Pregnant and lactating mothers were sensitized to complete their immunization doses, consume balance diets, growing kitchen gardens at their backyard, prefer child birth at the hospitals to ensure safe delivery, etc.
| | | | |
| --- | --- | --- | --- |
| | | Donation of stationary items | Tata Business Support Services | Hyderabad |

Infused with the Founder's day spirit and to touch maximum lives on the inaugural day of the TVW5 Tata BSS Jamshedpur Volunteering team collected record number of stationaries, toys, and eatables.
Lead by the senior leadership team along with more than 20 volunteers interacted with the residents of the School of Hope for physically challenged children and Cheshire Home for orphans and distributed the collected item.
| | | | |
| --- | --- | --- | --- |
| | | Blood donation camp | Tata Business Support Services | Ethakota |

Day one of Ethakota blood donation camp saw 42 employee volunteers participant. Red Cross set up the camp in Tata BSS Ethakota office, the donated blood will be mainly used for thalassemia children. Nearly 1000 thalassemia children are registered in their blood bank. Daily 30 to-40 children are given free blood and free transfusion in the blood bank.
| | | | |
| --- | --- | --- | --- |
| | | Food donation drive | Tata Business Support Services | Kolkata |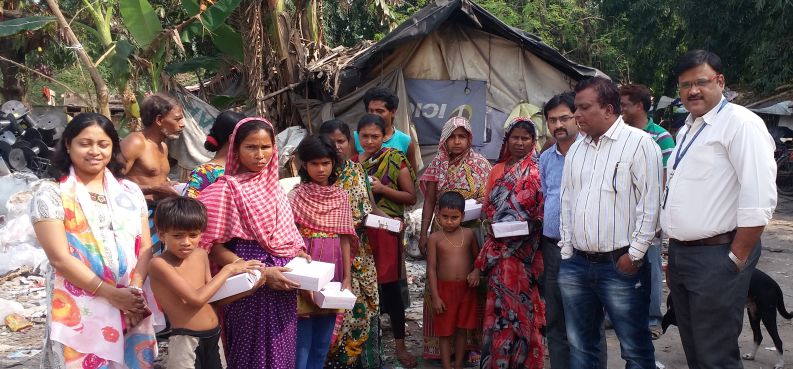 Tata BSS Kolkata volunteering team visited a slum area located in Salt Lake Sec V. The residents were mostly garbage collector. The volunteering team of five people led by AVP-Rayees Ahmed spoke to them about sanitization and daily hygiene and the importance of it in their profession.
They were given food packets and the parents were encouraged to send their children to schools. The residents were very happy with the time spent and were all praises for the Tata group.
| | | | |
| --- | --- | --- | --- |
| | | Awareness session | TCS | Mumbai |

Two volunteers visited a Muncipal  Tribal School in Thane . Awareness was given in Computers and a session on Drawing was done. The kids were very eager to learn  ENglish. Though they have computer as a subject they have never used computers . They have problems in English. The volunteers will continue towork with them in sessions and improve their knowledge.
| | | | |
| --- | --- | --- | --- |
| | | TPDDL organizes blood donation camps | TPDDL | Delhi |
Celebrating Founder's Day and marking start of TVW 5 TPDDL, in association with Indian Red Cross Society, organized two blood donation camp at TPDDL Training Center in Rohini Sec 11 and at Keshavpuram. Employees very enthusiastically took part in contributing for the noble cause. The camp had a registration of 167 motivated and enthusiastic employees of which 149 units of blood were collected. TPDDL is corporate donor of Indian Red Cross Society and have been recognized regularly for the contributions made by the employee volunteers in saving lives in distress.
| | | | |
| --- | --- | --- | --- |
| | | Celebrating Ethics Week | TPDDL | Delhi |

TPDDL celebrated Ethics Week on March 3rd' 2016 where more than 200 employees gathered and winners of various competitions meant for promoting ethical practice at workplace and amongst communities were awarded. Employees organized various sensitization sessions at Vocational Training centers where they took sessions on morale values, ethics, code of conduct etc. volunteers also distributed refreshments & study materials to the kids studying at the center.
| | | | |
| --- | --- | --- | --- |
| | | Tree plantation drive | TPDDL | Delhi |

20 volunteers from Sub Transmission Dept. of TPDDL planted approximately 200 saplings of fruits & flowers at locations of Naraina, Badli and Rohini. Volunteers enthusiastically undertook the plantation drive to express their commitments towards combating climate change and serving our mother earth.
| | | | |
| --- | --- | --- | --- |
| | | Cleanliness drive | APPL | Assam |

The volunteers conducted a cleanliness drive around a club. The volunteers also did the white washing and painting of doors and windows of the club. This is a club which was established in 1980 and the building has been used by  Outreach mobile medical camp of Hattigor T.E. The club members also join hand with the volunteers to clean the surrounding of the club and floor of the club after completion of work. The volunteers also offered complimentary lunch for the efforts.